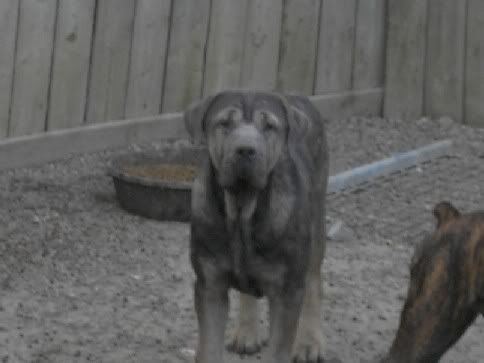 This is a picture of a Cane Corso (like shannens dogs) that is in seious need of help. He came into rescue as an abuse/neglect case about a week ago. He is suffering from a skin disease called mange. Mange is not contagious but it is a painful disease that causes the skin to break out into scabs which is caused by many tiny microscopic parascites. Mange can be treated but to dip a dog as large as him in the solution the number of times it takes to cure the diesase is very spendy. The mange is a result of his abuse and unsanitary living conditions before he was siezed, he is a young dog who has a great attitude towards life considering what hell he has been through. We are asking anyone who can donate anything to this dog to please do so....any amount of money can help....this is a link to out printable onile doation form:
http://www.homewardboundrescue.com/donationPrint.html
Homeward Bound is 501 (c) (3) registered and is a no kill, non profit orginization but unfortunately we recieve no government support so you help is greatly needed in the care of this dog.
I took this picture on saturday, september 4th 2004, so yes it is current!
XOXO Linzy